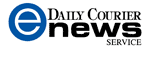 It wasn't the first time Sunday that Riley the dog had been in a house of God.
So it perhaps wasn't too surprising that he was quiet as a church mouse as he sat in the lap of his owner, Ruth Hart, for a special Blessing of the Animals service.
"I sometimes sneak him in here on a regular Sunday," Hart said as she joined about
20 other humans and their animal companions for the annual event, held at St. George's Anglican Church in Westbank.
Most of those animals brought to receive a blessing were dogs, but there were a couple cats trying to keep a low profile in a back pew.
The blessing is offered as a tribute to
St. Francis of Assisi, who is considered the patron saint of animals. Participants sung the hymns All Things Bright and Beautiful, and All God's Critters, and took up a collection for the SPCA.
"This is an opportunity to give thanks for the special role pets play in our lives," said Cathy Haig, the church's people's warden, told the gathering.
Animals, she said, remember kindnesses and forget harsh words, give love unconditionally, and always live in the moment.
"Pets are one of the ways in which we contemplate creation," she said. "They help us to be in awe of the complex, diverse, wonderful world we live in."
At one point in the short service, after worshippers had said "Amen," one of the dogs barked loudly. "That's a good response, too," said Rev. Julia Craig.
Top of Page